Frequently Asked Questions
sonnenBatterie
What is the sonnenBatterie?
The sonnenBatterie is a fully-integrated, smart home storage solution made up of safe and long-lasting Lithium Iron Phosphate (LiFePO4) battery modules, intelligent energy management software, and a power inverter.
"Fully-integrated" means that the three components are designed to work together and offer a high-quality product in one neat box. "Smart home storage" means that the energy management software includes a self-learning algorithm that continuously adapts to your consumption patterns to achieve the highest self-consumption and savings for your household.
How many sonnenBatteries have been installed to date?
Up until 2020, sonnen has sold 80,000 sonnenBatteries worldwide.
Why should I choose sonnenBatterie over other brands?
Every household uses and produces energy differently. sonnenBatterie takes this into account via its smart energy manager, making the most out of your solar energy by responding to your house's specific energy demands. The system maximises your self-consumption and with it, your savings. sonnenBatterie is designed to last well beyond the warranty period and incorporates the safest cell technology.
What is the right capacity for my household?
The sonnenBatterie is a modular home storage system and can be designed to fit exactly your household's needs. That also means that it's capacity can be increased even after install, if the initial system design does not have enough capacity to power you through the night. Additional battery modules can be added at a later time by your solar retailer to match your increased energy needs. Just give them a call and ask for a capacity upgrade.
Tip: To find the right capacity for your household, check your electricity meter in the evening and in the morning for a few days to find out what you use during peak times (e.g. between 6pm and 6am).
Tip: Make sure that you get a battery cabinet from the get-go.
How much does sonnenBatterie cost and where do I buy one?
The price of a sonnenBatterie depends on the chosen battery capacity and will be quoted by the solar retailer from whom you get the system installed. sonnen work together with quality solar retailers across the country who are specialists in offering solar systems and energy storage solutions. To get product consultancy and a quote, call us on 13 76 66 or register here for a call-back from our customer support.
What is the warranty on a sonnenBatterie and how does it compare?
sonnen offers a 10-year Full Warranty on all its components. This means that your investment is protected for 10 years or 10,000 cycles, whichever comes first. During the warranty period, all components of your sonnenBatterie are covered: the inverter and all power electronics, the energy manager and the battery modules. Even the sonnenProtect comes with a 10-year warranty.
Is the warranty affected when I join a Virtual Power Plant?
No. The warranty allows for charging and discharging the battery 10,000 times within 10 years. It is therefore designed to provide multiple charging cycles per day, which makes it one of the few storage solutions viable for use in Virtual Power Plants (VPP). 
Is the sonnenBatterie safe?
Yes! We only use the safest Lithium technology available: Lithium Iron Phosphate (LFP or LiFePO4). Since the very first sonnenBatterie, sonnen have been relying on LFP battery modules because of LFP's inherent safety attributes. The main point being that the battery cells do not burn and are therefore the ideal choice for our residential energy storage solution.
Why does sonnen use LFP battery chemistry?
The simple answer is: It's the safest Lithium Ion chemistry available for home battery systems. Battery cells made of LFP are durable and safe. We've been testing various battery chemistries since 2009 and have always chosen LFP battery cells over other battery chemistries such as Lithium Manganese Nickel Cobalt (MNC).
Does the sonnenBatterie always need to be connected to the Internet?
Yes. It does so for warranty purposes and for you to be able to monitor your household energy. The functions of the system are also working without an internet connection, but it cannot receive automated software updates, you will not be able to use the monitoring and sonnen does not provide warranty.
How do I know the sonnenBatterie is working?
Under normal operation, the sonnen logo - called eclipse - pulsates white. Through its Internet connection, the system sends metering data to the online portal and monitoring app and informs our technical service about maintenance requirements. We work together with your installer to make sure the sonnenBatterie gets back online asap if it ever loses connection. The different colours displayed by the eclipse and their meanings are listed below:
Pulsing White: Normal operation - No worries, everything works fine.
Pulsing Green: Off-grid operation - No worries, your most important appliances are being supplied.
Pulsing Orange: No Internet connection - Try to restart your internet router.
Solid Red: Error - Please call service.
Is the sonnenBatterie recyclable?
Yes. The components used in the sonnenBatterie are fully recyclable. The power electronics can either be refurbished for second life or scrapped for their metal. The LFP battery modules are the most environmentally-friendly Lithium Ion technology available to date, and can be taken apart to reuse both the Lithium and the Iron Phosphate components.
sonnenProtect
What is sonnenProtect?
sonnenProtect is an optional accessory that can be installed with your sonnenBatterie to ensure power supply to dedicated circuits during a blackout. Blackouts can happen e.g. when extreme weather damages the network and electricity supply through the grid is interrupted.
Does the sonnenBatterie power my house when the grid fails?
In its standard configuration, the sonnenBatterie only supplies your house when the grid is online. If you want to protect dedicated circuits and important appliances against grid failure, your installer adds sonnenProtect, which supplies your most important appliances with energy stored in your sonnenBatterie.
Does the sonnenBatterie recharge during grid failure (blackout)?
If sonnenProtect is installed together with a sonnenBatterie hybrid, your system offers recharging during blackout and can supply dedicated circuits in the household, even if the connection to the grid stays offline for days.
sonnenFlat
What is sonnenFlat?
sonnenFlat is the world's first energy retail offer designed for home battery owners. For a low monthly fee, sonnenBatterie owners receive a generous yearly energy usage allowance, and gain access to sonnen's energy sharing platform, the sonnenCommunity. 
Where do I sign up for sonnenFlat?
If you have a sonnenBatterie already and are yet to experience the full benefits of sonnenFlat, just sign up here or call us on 13 76 66. 
How do I know which plan is right for me?
When selecting which sonnenFlat plan is right for you, start by determine your eligibility based of your PV solar size and sonnenBatterie Usable battery capacity then look at your Annual household usage. To determine which plan if the right fit for your family.
The solar retailer of my choice does not know about sonnenFlat. What do I do?
That's no problem! Because sonnenFlat is essentially an electricity tariff by sonnen, we will help you switch from your current electricity retailer to sonnen and activate sonnenFlat for you. Please contact us via 13 76 66 or send us an at sonnenFlat@sonnen.com.au
How long does it take to transfer me from my old energy retailer to sonnenFlat?
Switching energy retailers to sonnen eServices may only take a few days! Delays can occur for customers with out-of-date meters, or lock-in contracts with their current retailer.
Does sonnen also offer grid services in other countries?
Yes. The sonnen Virtual Power Plant is already active in Australia, Germany, Italy, the U.K. and the U.S.
Does the yearly allowance include the energy produced from my solar system?
The yearly allowance of your sonnenFlat package refers to your total household consumption, irrespective of where it comes from: the grid, solar or battery. 
Are there any additional costs associated with my sonnenFlat membership?
No. Up to Annual household usage allowances, each kilowatt-hour of electricity costs you $0. If you go beyond the free electricity, you'll get our cheap community energy for the rate specified for your network. Check out the Energy Pricing Sheet for your network here.
How does sonnen invoice the excess energy used outside the annual allowance?
If you exceed your Annual Household Usage Allowance, the excess usage rate will apply, but only to the energy consumption from the grid. You will not be charged for energy that comes from your solar system or your sonnenBatterie. We are always looking out for the best cost-structure to offer a rate that is competitive in every network. Check out the Energy Pricing Sheet for your network here.
How will I know if I have exceeded my annual energy allowance?
Transparency is important. You can check your consumption by logging into your online portal or monitoring app. Your monthly sonnenFlat invoices will also show your grid consumption.
When do I see any excess usage charges and solar feed-in credits?
Any excess usage or solar feed-in credit will be calculated and added to your account at your 12 month anniversary.
Is the sonnenFlat promotion still available? 
There are currently no special promotions running for sonnenFlat. For the most up to date information regarding sonnen energy packages, please visit sonnen.com.au/energy  or call us on 137 666.
How to read my sonnenFlat bill? 
Please visit sonnen.com.au/fees to understand better how to read and decipher your sonnenFlat bill.
What's the minimum period to stay on sonnenFlat?
There is no minimum contract period, we believe in our products and are confident that sonnenFlat is the best energy retail offer for you. If you still wish to leave the plan, you simply sign up with another electricity retailer, who will cancel your sonnenFlat subscription on your behalf.
Once I choose sonnenFlat, will I still be in a contract with my current electricity provider?
No. We will switch you over from your current electricity provider to sonnen. Our energy retail arm sonnen eServices will become your new energy provider. This will make you 100% independent from conventional energy retailers!
Does sonnenFlat decrease the performance of my sonnenBatterie?
Self-consumption of customers is not limited by the sonnenFlat. For the batteries, sonnenFlat is not a burden because they are based on the robust lithium iron phosphate technology and with a lifespan of 10,000 charging cycles, are designed for additional applications than just self-consumption.
What happens to my battery during grid services?
Your sonnenBatterie is participating in a Virtual Power Plant, where it helps to compensate for fluctuations in grid frequency. Depending on the demand, electricity is either temporarily stored in the battery or released to the grid. With your sonnenBatterie you make an important contribution to the energy revolution.
What's sonnen's VPP and how does it support the grid?
sonnen digitally connects sonnenBatteries into a large virtual battery, the VPP. This VPP uses green energy and storage capacity from the sonnenBatteries to stabilise fluctuations in the electricity grid and place downward pressure on energy prices. Only by connecting many customers' batteries into one VPP, is the sonnenCommunity able to take the place of traditional CO2 intensive power plants.
Does sonnen's VPP affect my electricity supply?
No. Your supply is always guaranteed by your Distributor and sonnen. Did you know? VPP activity actually improves grid stability!
Does sonnen's VPP affect my black out protection?
No. The sonnenBackup-Box and sonnenProtect are not affected by your battery's contribution to the VPP. The VPP is not active during black outs.
sonnenConnect
How does sonnenConnect work? 
When you sign up to sonnenConnect, you give sonnen the right to remotely operate the battery.  sonnen is able to operate the battery to stabilise the local grid. You don't need to do anything.
Is there a agreement for this offer?
Yes, there is a contract between the sonnenBatterie operator (you the sonnenBatterie owner) and sonnen Australia Pty Ltd. Please click here to see the terms.
When will I receive payments for my participation in sonnenConnect?
Funds will be deposited in your bank account at the end of each month.
Is my daily rate fixed and how long is it guaranteed? 
Rates and terms are detailed in product term sheets.
Is the payment rate different for different battery sizes?
No.
Is there any minimum battery size for this offer?
Yes, 4 kWh of usable capacity.
Can I have both sonnenConnect and sonnenFlat (or another VPP)?
No. sonnenFlat customers are already participating in our VPP.  One can be in either sonnenFlat or sonnenConnect, but not both. This also applies to VPPs outside of sonnen.
Will I get paid my feed-in-tariff from my retailer for energy sent back to the grid?
Any exports to the grid will continue to appear as feed-in on your electricity bill. Your sonnenConnect agreement is independent of your electricity retail contract.
Do I need a smart meter?
No, there are no grid meter requirements for sonnenConnect.
Are there exit fees?
No. You may exit at any time, we just need 2 weeks notice. No exit fees apply.
Will my battery be accessed during a blackout event? 
No.  Failure of supply in the local grid removes the battery from the VPP.  VPP is only active on a live local grid.
Will sonnenConnect impact my battery reserve in any way?
sonnen does not access the energy reserved by the sonnenBatterie.
How much energy will you use from my battery?
This will depend on the needs of the grid services. You will receive a report on a regular base detailing the amount of energy used.
Will my participation in sonnenConnect affect my sonnenBatterie warranty?
No. sonnenBatteries are warranted to 10,000 cycles over 10 years, or 2.7 full cycles per day on average.  Participation in sonnenConnect will not affect the sonnenBatterie warranty.
How can I see if my battery has been used for a VPP event? 
Each month you will receive a report detailing any participation, see below for a sample of the monthly report.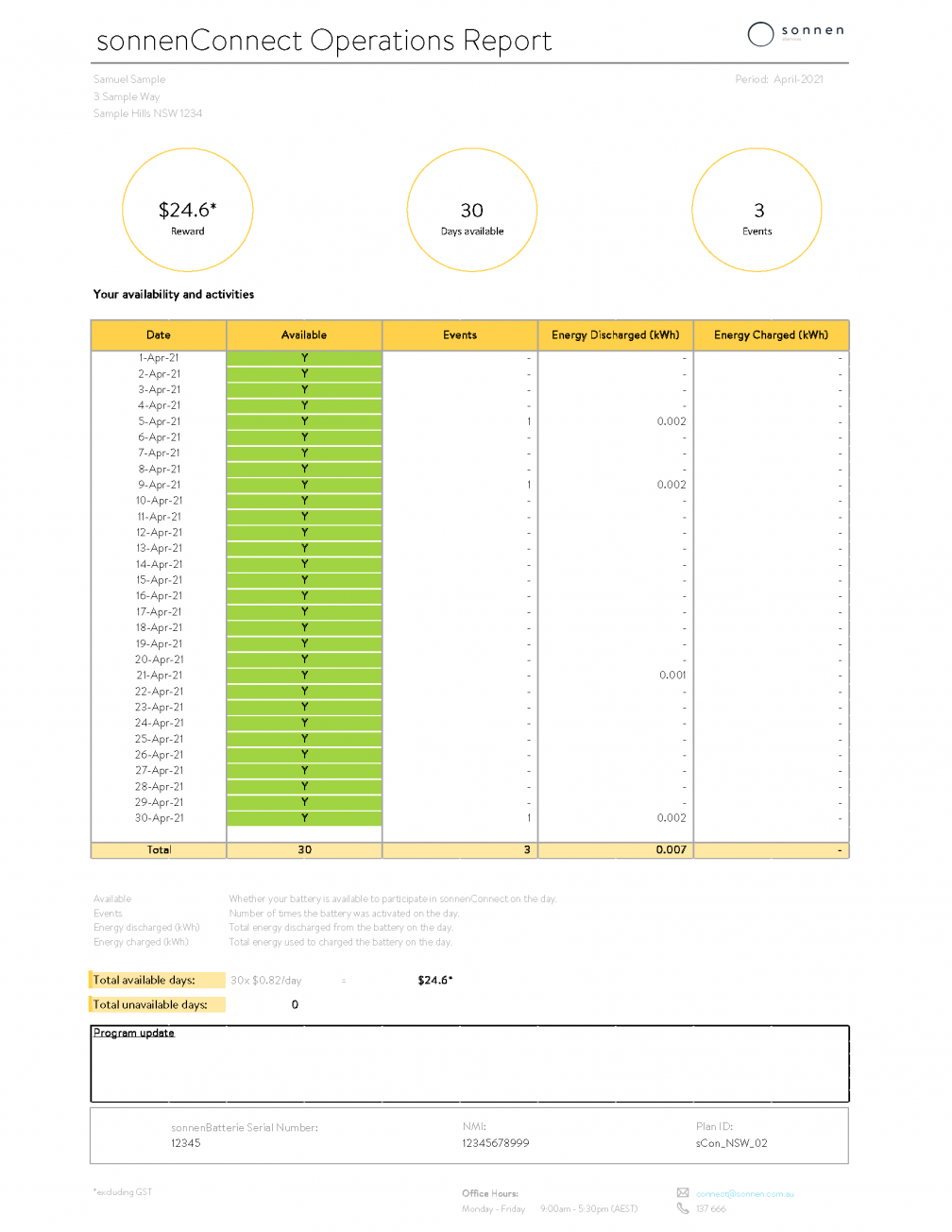 sonnenCommunity
What is the sonnenCommunity?
The sum of sonnenBatterie owners and sonnen eServices customers form the sonnenCommunity. Together, we accelerate the global energy transition to a renewable, decentralised energy system. Every household with a photovoltaic system and a sonnenBatterie gets the world closer to achieving our vision of clean and affordable energy! See our map to find out where we are!
Home Battery Schemes
Can I buy sonnenBatterie through a Home Battery Scheme?
Our home battery qualifies for all available battery schemes across the different states in Australia. To get more information, get in touch with a local solar retailer or register here for a call-back from our customer support.
South Australia: Home Battery Scheme
What are the rules around the SA Home Battery Scheme, and what do I need to know to secure the subsidy?
Please refer to the SA State Government's website for more information here.
Victoria: Solar Battery Rebate
What are the rules around the VIC Solar Battery Rebate, and what do I need to know to secure the subsidy?
Please refer to the VIC State Government's website for more information here.
New South Wales: Empowering Homes Program
What are the rules around the NSW Empowering Homes Program, and what do I need to know to secure the interest-free loan?
Please refer to the NSW State Government's website for more information here.
Northern Territory: Home and Business Battery Scheme
What are the rules around the NT Home and Business Battery Scheme, and what do I need to know about the scheme?
Please refer to the NT State Government's website for more information here.
Do you still have a question? Please get in touch via our contact form and a friendly sonnen team member will be in touch with you soon.